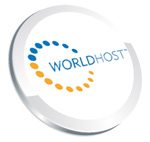 ADVANCE Continuing Education offers WorldHost Fundamentals workshops to members of the public in convenient Metro Vancouver class locations. We also offer WorldHost Fundamentals and the full range of customized WorldHost workshops to private groups and corporate clients throughout the Metro Vancouver Area and beyond. Our Certified instructors have years of experience in the hospitality industry, and enjoy passing on their expertise through WorldHost workshops.
Please see the schedule of WorldHost Fundamentals courses below.
What is WorldHost?
WorldHost was first introduced as "SuperHost" in 1985 to prepare BC's tourism workforce to host the world at Expo '86. Since then over 550,000 British Columbians have participated in this training, which has evolved into the standard for customer service excellence in BC as well as an internationally-recognized leader in training for the tourism industry. WorldHost provides affordable, relevant and quality customer service training solutions for front-line staff and managers. For individuals, WorldHost provides the skills and confidence required to excel at customer service. For businesses, WorldHost distinguishes the business by providing a competitive edge in customer service excellence. WorldHost Fundamentals is a one-day (8 hour) workshop that teaches front-line employees important, practical skills and techniques for providing excellent customer service. The result… impressed customers and clients who will not only return, but will tell others about the quality service they have received.
Other WorldHost Workshops
ADVANCE Continuing Education offers the complete family of 9 WorldHost workshops to corporate clients upon request. These workshops can be customized to address specific customer service training needs for any business or employer. For customized sessions, a needs assessment is completed in consultation with a client prior to conducting a workshop.
1. Sales Powered by Service
Sales Powered By Service is a two to three hour WorldHost polishing workshop that helps front-line employees to be more effective sales representatives through a service focus. This includes understanding the sales cycle, the sales representative's role in influencing the buying process, and selling beyond the basics.
2. Solving Problems Through Service
Solving Problems Through Service is a two to three hour workshop that helps front-line employees be effective problem solvers in their role as service providers. Topics include the anticipatory service approach, creative thinking in challenging situations, problem solving, and saying no graciously.
3. Service Across Cultures
Service Across Cultures is a half-day WorldHost workshop designed to increase front-line employees' awareness of the diverse cultures of British Columbia's residents and visitors. Service Across Cultures provides participants with practical skills to understand and be understood by customers from other cultures, and helps participants be aware of common misconceptions regarding serving people from different cultures. Students learn about travel trends of international visitors and our shared responsibility to improve cultural relations.
4. Service for Chinese Visitors
Service for Chinese Visitors is a three-and-a-half hour workshop that provides frontline employees with the cultural awareness and communication skills required to better serve BC's Chinese Market. Students learn about Canada's Approved Destination Status (ADM), as well as Chinese visitor expectations and useful Chinese words and phrases.
5. Japanese Service Expectations
Japanese Service Expectations is a half-day workshop that helps front-line employees understand Japanese visitors, their culture and their customer service expectations. Participants learn what the Japanese expect in the way of customer service, including how to properly address visitors, key words and phrases in the Japanese language and other cultural awareness skills to better serve BC's important and growing Japanese overseas market.
6. Customers with Disabilities
Customers with Disabilities is a half-day workshop designed to increase front line employees' sensitivity toward people with disabilities, and to provide superior customer service skills that respect every visitor's unique requirements. Customers with Disabilities provides insight into the requirements of people with a wide range of disabilities including vision and hearing impairments, mobility and agility concerns. Topics include appropriate language and protocol, as well as effective communication skills and techniques for serving customers with disabilities. This workshop teaches valuable skills that will benefit virtually any front-line service professional in British Columbia, including hotel, restaurant and retail employees.
7. Frontline Management Solutions
Frontline Management Solutions is a one-day workshop for managers and supervisors designed specifically for the tourism and service sector. The workshop provides practical information to assist managers to develop customer service strategies for their staff. Frontline Management Solutions provides tools and expert solutions for a wide range of management/supervisory topics. Participants will come away with a practical binder full of professional tips, techniques and case studies to apply to their jobs and a "tool kit" of pull-out pages to help guide them through screening resumes and successful interviewing, recognizing and rewarding, gaining group participation, correcting the positive way, and much more.
8. WorldHost Ambassador Workshop
This three hour workshop prepares volunteers to be ambassadors for their community during large or small scale events. Students learn about community resources, customer service and creating a powerful connection for visitors to their community.
Upcoming WorldHost Classes