FOODSAFE Level 2 (Advanced)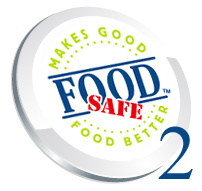 This Certificate course is recognized by all Health Authorities in BC and many other regions. All our FoodSafe courses are taught by Certified Public Health Inspectors!
FoodSafe Level 2 (Advanced) builds on Level 1, which is a prerequisite for Level 2. Topics covered include using the HACCP system to develop a Food Safety Plan, which every restaurant in B.C. is required by law (Food Premises Regulation) to have. A Food Safety Plan describes all of the food-handling procedures of the restaurant and the measures in place to ensure they are done safely to prevent food poisoning.
Other topics related to managing a safe food-service business, such as sanitary practices and pest control, are also covered in FoodSafe Level 2.
[contentblock id=2 img=gcb.png]
Upcoming FoodSafe Level 2 Classes
All FoodSafe Level 2 Classes take place over one day and one evening.
FOODSAFE 2 Courses
FOODSAFE 2 - Surrey (Kwantlen)
Sat., Oct. 6, 2018
FOODSAFE 2 - Vancouver (Downtown)
Sat., Oct. 13, 2018
FOODSAFE 2 - Vancouver (Downtown)
Sat., Nov. 10, 2018
FOODSAFE 2 - Surrey (Kwantlen)
Sat., Nov. 17, 2018
FOODSAFE 2 - Vancouver (Downtown)
Sat., Dec. 8, 2018