Emergency First Aid (EFA) & CPR - Vancouver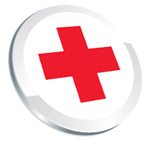 This 6.5 to 8 hour course provides an overview of practical skills needed to react effectively to cardiovascular emergencies of adults, choking or other airway emergencies, prevention of disease transmission, and other potentially life-threatening emergencies at work, at home, or in the community. Successful completion results in 3 year Certifications in Red Cross Emergency First Aid, with CPR Level A or C and also AED. Certification cards are issued on the day of the course.
Emergency First Aid with CPR-C is recognized by WorkSafeBC as equivalent to OFA Level I.
Each student also receives online access to a full-colour, 201 page Canadian Red Cross First Aid & CPR manual and has the option of purchasing a hard copy (see "Choose an option" field below.)
Please complete the form below to register for this course location and date.
Registrations are also accepted at (604) 565-3663.
Click "Submit" to review before going to the online Payment Options page.